Positive sentiment on China growth continues to gain momentum as investors turn bullish on the emerging markets following the lacklustre outcome in 2022. A survey of global money managers conducted by BofA Securities from the 6th to the 12th of January 2023 also reveals that money managers have become less bearish compared with the fourth quarter of 2022, fuelled by China's reopening and optimism on the US Federal Reserve.
The survey shows China growth expectation at 17-year high as 91% expect "full reopening" of the world's second largest economy in 2023.
Data from the survey, which involved the participation of 286 investors with US$772 billion in assets under management, also show that recession fears peaked at 77% in November last year and have fallen to 68%. BofA Global Research also notes that "prior peaks in recession fear were big turning points in asset prices".
Although money managers are continuing to remain bearish with a net 50% of those surveyed expecting a weaker global economy in the coming 12 months, this is the most optimistic investors have been on global growth outlook in the past year. A big factor in the less bearish sentiment is China. The net percentage of investors who expect "a stronger Chinese economy rose to 91% in January 2023, up from 75% in Dec 2022, 13% in Nov 2022 and… 0% in Aug '22", it adds.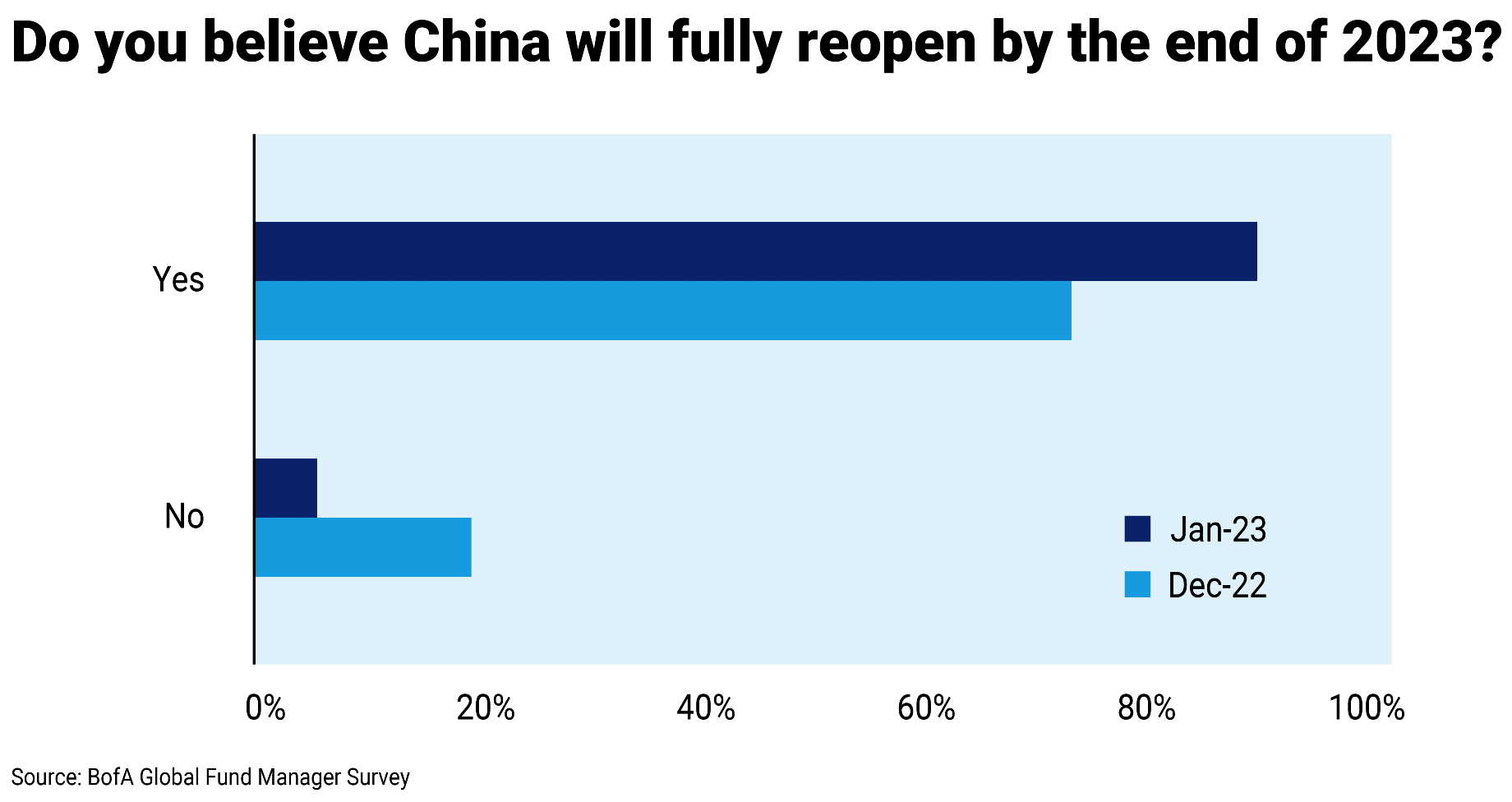 "The opening of China's borders is the latest pivot to restore confidence now and boost growth no later than spring," Michael Kelly, global head of multi-asset at PineBridge Investments, and his team note in their monthly Multi-Asset Strategy. "Relaxation of regulations in the technology and property sectors also continues to unfold."
Commenting on China's 2022 GDP growth of 3%, David Chao, global market strategist, Asia-Pacific ex-Japan, at Invesco, shares: "[The] better than expected economic print confirms my view that growth and corporate earnings could surprise on the upside to beat expectations in 2023, and that investors should continue to embrace China's reopening as the single most important catalyst for APAC markets in 2023."
On the emerging markets, BlackRock Research Institute's thinking is also in line with the survey of money managers with the backdrop turning more positive for emerging markets (EM). "EM generally has higher levels of currency reserves, smaller current account deficits, improved external balances and better debt maturity mixes than they did in past DM (developed markets) tightening cycles that sparked volatility," it observes in its weekly report.
In addition, BlackRock also agrees that China's reopening brightens the view on EM as domestic demand restarts. "Chinese assets represent a sizable share of EM indexes, so we see overall EM as beneficiary of the reopening. Rising Chinese demand is likely to benefit other EM exporters with strong ties to China as growth rebounds, too."
BlackRock estimates China's economic growth will be above 6% in 2023, which is on the high side relative to other managers' estimates. It, however, cautions that the growth "will be tempered by falling exports as goods demand cools with spending shifts in developed economies away from goods and toward services".
PineBridge's Kelly shares another concern: "Decoupling of US-China technology, supply chains, and currency blocs looks poised to continue or even amplify, instigated by both sides… Nonetheless, we see China as the preferred investment path for global investors in 2023, given the likelihood of sequential rolling recessions in Europe and the US just as China exits its own recession."
As investors shift to EM, allocation to US equities collapsed in January 2023 with money managers surveyed by BofA Global Research net underweight at 39%, the most since October 2005, which was at 52%. "January 2023 saw the biggest MoM (month-on-month) increase in net underweight on US equities on record (+27ppt)."